Amsterdam, The Netherlands, 8 March 2023 – Freya Pharma Solutions, a late clinical stage company focusing on the development of effective pharmaceutical therapies for women diagnosed with Female Sexual Disorders (FSD), announced today the appointment of Christa van Kan, MSc (picture below) to the position of Director Clinical Operations, starting in March 2023.  Ms. van Kan brings more than 25 years of clinical operations and trial management experience to Freya Pharma Solutions.
Marcel Wijma, CEO at Freya Pharma Solutions said:
"Christa possesses more than 25 years of experience in the contract research organization (CRO) industry. As our newly appointed Director Clinical Operations, she will be responsible for driving the confirmatory clinical development of our FSD therapy platform. During her impressive career, Christa has led numerous clinical programs from 'first-in-human' to Phase 3, managing performance targets to meet company goals, maintain resources, and coordinate process development to ensure optimal trial outcomes. We are delighted that Christa is joining Freya's senior team as we prepare to initiate our confirmatory clinical trial, investigating LybridoTM, an 'on demand' therapy for the treatment of premenopausal women suffering from Female Sexual Interest/Arousal Disorder (FSIAD)."
Ms. van Kan was most recently Interim Director Clinical Operations at Healx, a Cambridge (UK) based AI drug discovery company, overseeing all clinical projects performed by the company and training and coaching the clinical team members. Prior to Healx, Ms. van Kan was co-founder in 1998 and Director Clinical Operations of PSR Group, a Dutch CRO. Ms. van Kan holds an MSc degree in Biomedical Sciences from the State University Leiden in The Netherlands.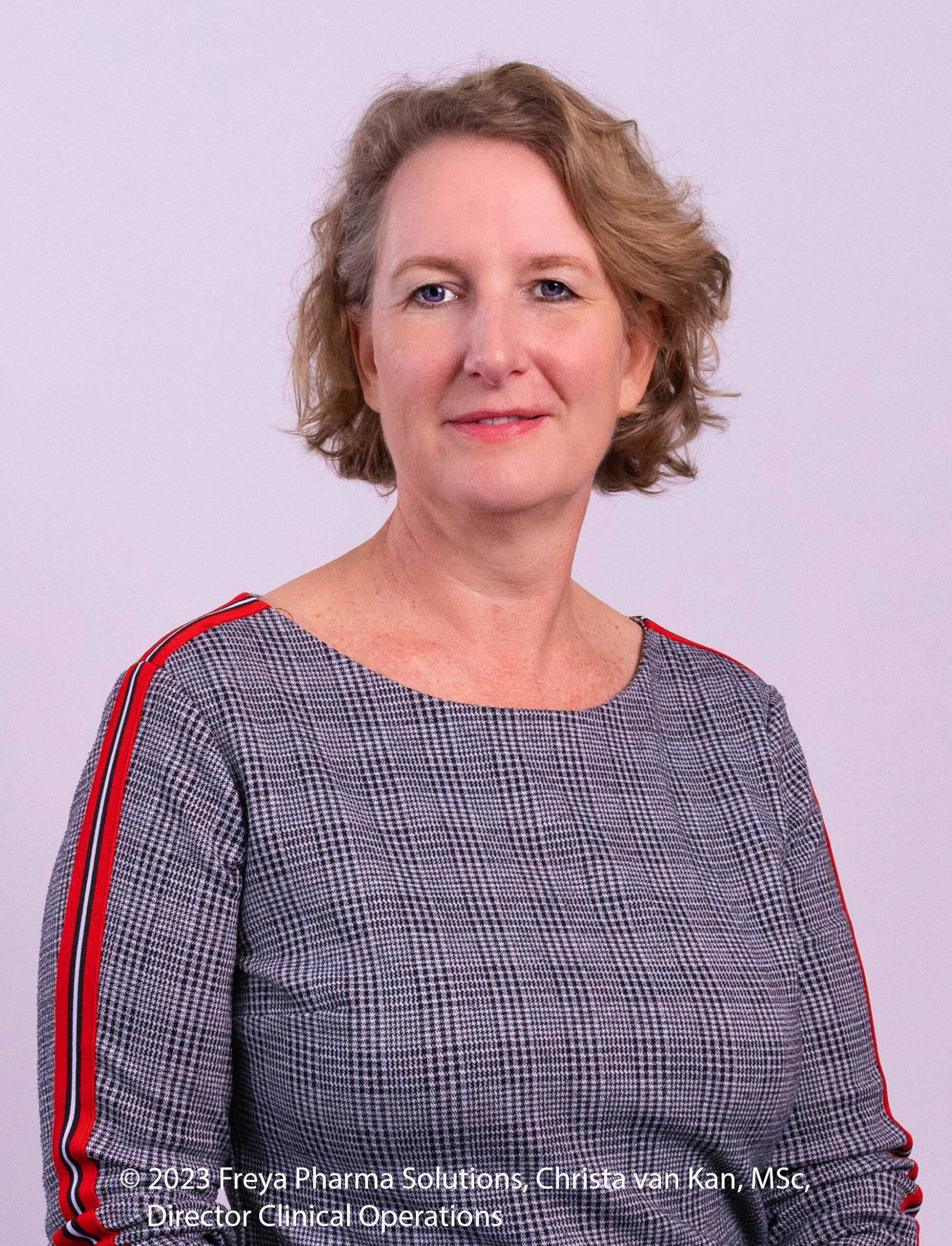 Christa van Kan, MSc, Freya's new Director Clinical Operations, commented:
"I am excited to join Freya at a pivotal time for the company as we plan to soon advance LybridoTM into a confirmatory clinical trial for the treatment of FSIAD. I look forward to working with Freya's leadership and R&D team as we seek to transform the lives of women living with this severe sexual disorder by developing novel treatments that open new pathways to target lack of sexual interest and desire, with the overarching goal of improving their sexual health."
Freya Pharma Solutions is currently preparing the clinical development program with several studies with LybridoTM in Europe, to be followed later by trials in the United States. In September 2022, Freya received early scientific advice from the European Medicines Agency (EMA) on its upcoming confirmatory ALETTA clinical trial, providing constructive and valuable elements that will contribute to the successful development of the therapy. The company is highly confident that it is well on track with the clinical development of LybridoTM as a treatment for women suffering from sexual dysfunction, and the related distress which often negatively impacts their quality of life and their relationships.
About Female Sexual Disorders
Among female sexual disorders, low sexual desire is consistently reported as the most common sexual complaint in women. As a result, many women are dissatisfied with their sex lives, which often affects their social and emotional well-being. Currently, several definitions are being used. Hypoactive Sexual Desire Disorder (HSDD) is recommended by ISSWSH and is a sexual dysfunction in which women lack motivation or lose desire to have sex for at least six months, causing significant levels of personal distress.
Female Sexual Interest/Arousal Disorder (FSIAD) is a sexual dysfunction that is defined in the 2013 version of the DSM-5 Diagnostic and Statistical Manual of Mental Disorders, a publication by the American Psychiatric Association, as a persistent lack or significant reduction of sexual interest and/or arousal. Persons can be medically diagnosed after having a well-defined number of symptoms causing clinically significant distress and which have persisted for a minimum of six months. The disorder is specified by severity level and subtyped into lifelong versus acquired, generalized versus situational.
About LybridoTM
A total of 20 phase 1 and phase 2a trials, and large-scale phase 2b trials in 17 research sites in the US have been conducted to date. These trials have investigated the efficacy and safety of two novel on-demand pharmacological treatments that have been designed to treat two FSIAD subgroups: premenopausal women with low sensitivity for sexual cues (LybridoTM) and women with dysfunctional over-activation of sexual inhibition (LybridosTM). LybridoTM increases central sexual motivation and physiological sexual responses. The therapy can be taken 'on demand' and helps to increase sexual desire and arousal from 3 to 6 hours after intake.
This treatment consists of a novel (dual-route, dual-release, fixed-dose) combination tablet consisting of a testosterone coating for sublingual administration and an inner-core component made of the phosphodiesterase type 5 (PDE 5) inhibitor, sildenafil. The inner-core component is coated with a delayed immediate release matrix to ensure that the peak plasma concentration of the PDE 5 inhibitor coincides with the window of increased sexual motivation induced by the testosterone. Thus, this combination enables an increase in genital arousal through an increase in responsivity to sexual stimuli.
About Freya Pharma Solutions
Freya Pharma Solutions is a late clinical stage company focused on developing effective pharmaceutical therapies for FSIAD, building upon fifteen years of solid research. The company has two compounds in development, Lybrido and Lybridos, to address the range of potential causes of FSIAD. Based in Amsterdam, The Netherlands, Freya aims to offer patients a convenient, personalized 'on demand' solution for this recognized unmet medical need.
Please contact for further information:
Freya Pharma Solutions, Amsterdam
Marcel Wijma, Chief Executive Officer
E: marcel@freyapharmasolutions.com
For media
LifeSpring Life Sciences Communication, Amsterdam
Leon Melens
T: +31 6 538 16 427